15 Free Boudoir Photoshop Actions
Check all prices
15 Free Boudoir Photoshop Actions
Last updated on December 16, 2020 8:02 pm
Description
Are you tired of being ignored?
Yes, all you boudoir photographers, we're talking to you.
It seems that there are more opportunities and resources available than ever before to all kinds of photographers, from all walks of life. But what about boudoir photographers?
At last, we have something just for you. 15 Free Boudoir Photoshop Actions
In this bundle, we present 15 free Photoshop actions created with the boudoir photographer in mind. Because your art requires a level of intimacy, artistry, and gritty honesty that is unmatched in other artistic genres.
These actions allow you to easily play with lighting, skin tone, contrast, and color correction to achieve dramatic and stunning boudoir images.
Boudoir Photoshop Actions: A One-of-a-Kind Deal
Photoshop actions are among the best resources out there for professional photographers. They're affordable, effective, and just plain fun.
And when you can find a nice deal, it's even better.
Savvy photographers can find all kinds of inexpensive (or free) bundles of actions if they're on the lookout for them.
But very few of these resources take into account the special needs of boudoir photographers.
The effects that you require are completely different from those needed in traditional portraits.
You need tools that bring out the beauty of the human form, highlighting the most attractive details of your models' unique beauty. You need exactly the right lighting, the right tint, the right level of pure flawlessness.
You are a rare breed. And these 15 boudoir Photoshop actions are created with your specific needs in mind.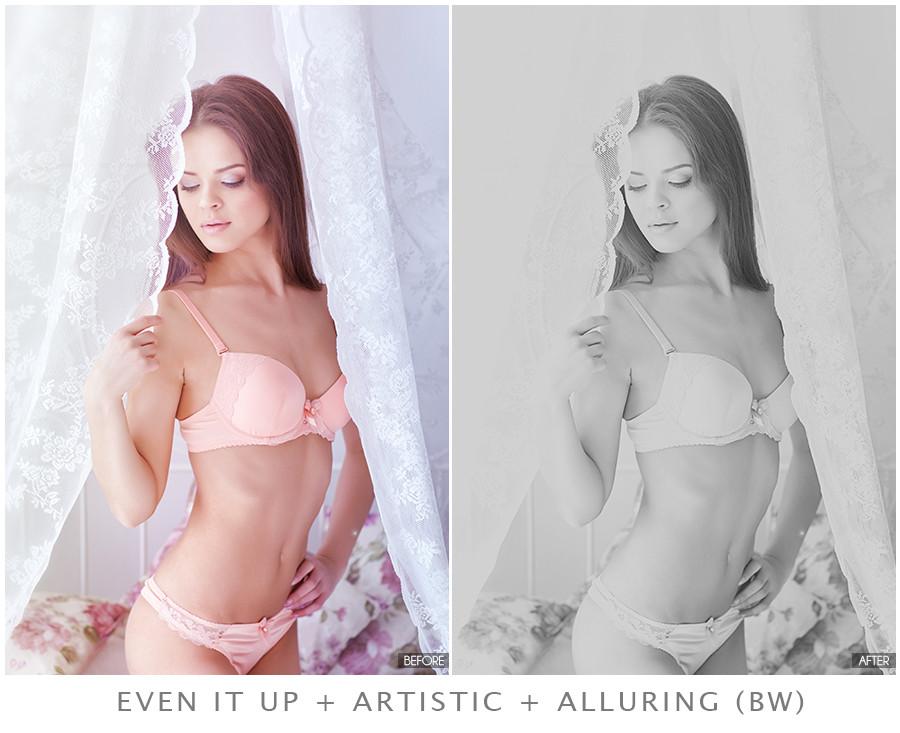 Why You'll Love These Photoshop Actions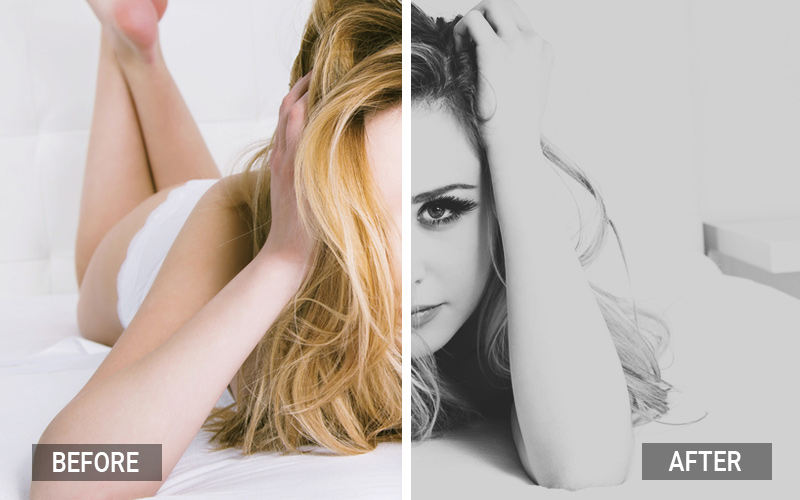 Yes, as we said before, there is a bewildering variety of Photoshop actions available to the budget-conscious professional photographer.
But sometimes they're not all they're cracked up to be.
Sometimes a Photoshop action might look good on paper, but in fact it is unwieldy to use. Occasionally, an apparently great Photoshop action may be incompatible with your preferred software or equipment.
But the actions in this bundle are wonderfully user-friendly. They are compatible with Mac and Windows machines, and on multiple versions of Adobe Photoshop.
Experiment To Your Heart's Content
It's often hard to know if you'll love a boudoir Photoshop action until you actually get to try it out.
Some actions might be perfect for one photographer, but not so awesome for another one.
Free boudoir Photoshop actions give you the opportunity to experiment with different actions and effects risk-free.
At last, you get the chance to try out a variety of fun Photoshop actions for the boudoir without making a dent in your budget.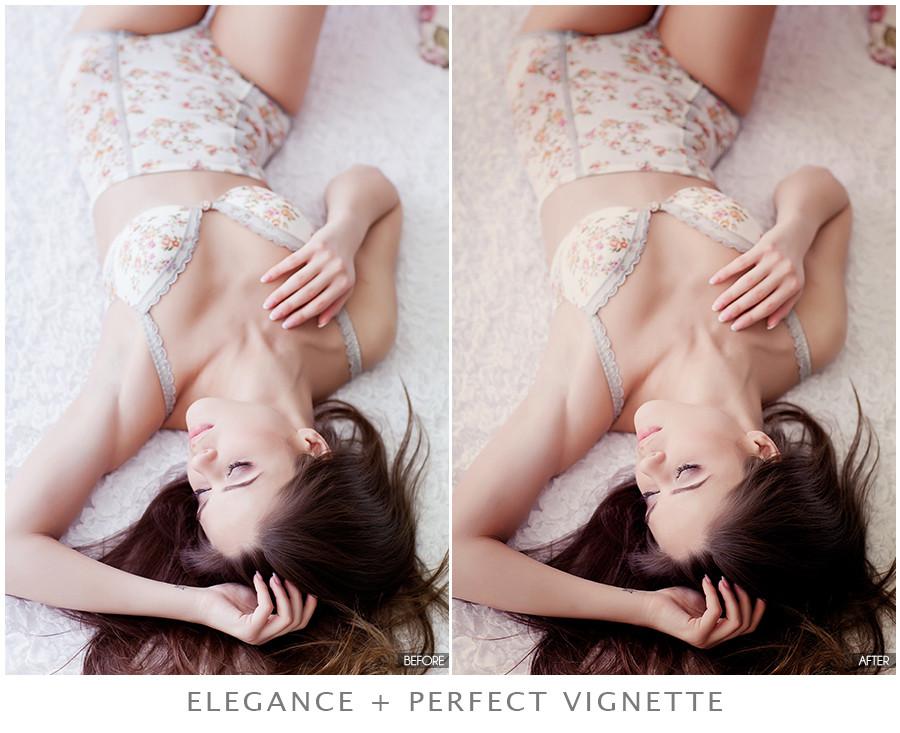 It's every photographer's dream. A workflow so smooth, so effortless…that it doesn't even feel like work.
And with boudoir photography, a smooth workflow can be especially hard to achieve.
After all, working with models in various states of undress can get awkward. You're under an obligation to make them look their very best, and to help them feel confident, comfortable, and at ease no matter the situation.
An easy workflow might seem unrealistic. But guess what?
These actions will make every aspect of your workflow so easy, so effortless, that you and your models will feel completely relaxed. And it will show in the results.
Because you can eliminate every flaw and accentuate every beautiful detail with just a few clicks.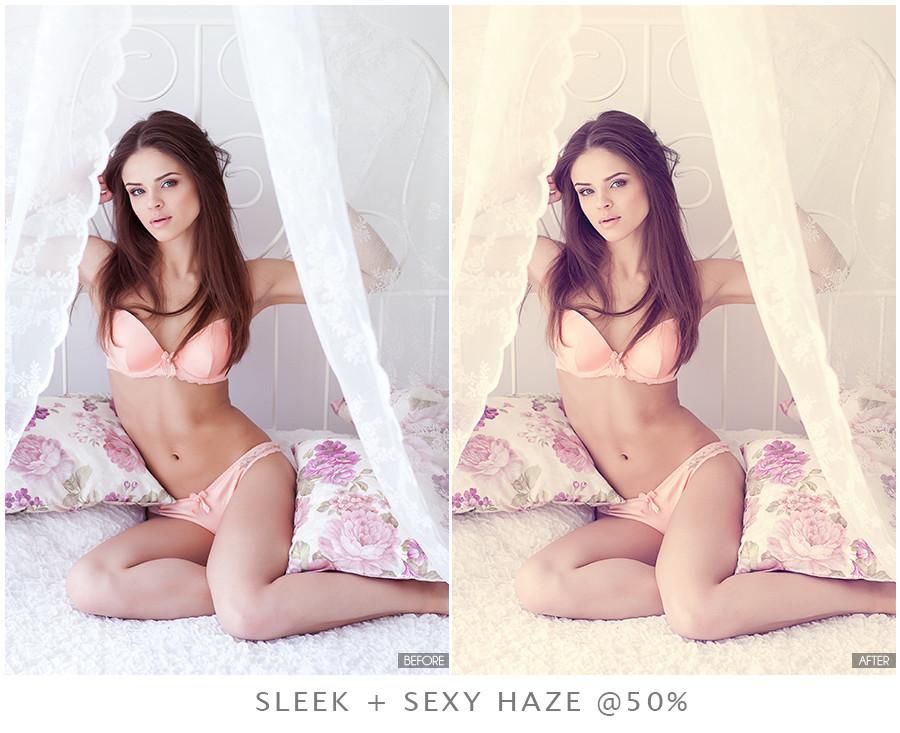 Check out A Few Examples Below
Besides creating incredible boudoir photography, these actions will save you many hours of time.
And in this business, time is money.
To begin with, the results you achieve cannot fail to catch the attention of prospective clients. Simply by posting your stunning boudoir images to Instagram, you'll gain more followers and fans. All this attention inevitably leads to more work and more profits.
But that's not all. These boudoir Photoshop actions allow you to create these results quickly and easily. No fuss, no muss.
Photoshop Actions will work with ALL versions of Photoshop and Elements! (Photoshop CS 2-6, Photoshop CC and Elements 6-13 and up.)
That's time you can put right back into your business in other ways. Like building relationships with customers. Coming up with new creative ideas for photo shoots. Widening your social media presence.
With so much more free time in your schedule, who knows how far you'll go?
The only limit is your imagination.
Download these boudoir Photoshop actions today, and see how they breathe new life into your photography.
We're both an Affiliate and a direct store
We hope you love the products we review, offer and recommend! Just so you know, if you decide to make a purchase, depending on the item, you may be directed to the appropriate affiliate site and your purchase will be directly from them, with a small referral proceeds collected by us as a share of sales or other compensation from the links on this page. Thank you!
Reviews (1)
1 review for
15 Free Boudoir Photoshop Actions