30 Boudoir Photo Shoot Ideas in 30 Minutes
30 Boudoir Photo Shoot Ideas in 30 Minutes
Description
Want to start your boudoir photo shoot with a practical game-plan?
30 boudoir photo shoot ideas for sure shot success
The first 30 minutes of your boudoir photo shoot are critical — are you wasting time?
Being to the point, starting fast. It shows that you know what you're doing. It says you're confident. Even though some days you're not. Some days you're tired or busy.
When that happens, wouldn't it be nice to rely on a set boudoir photo shoot ideas that you can always count on?
Knowing that you have poses in your back pocket — ones that you can teach to nearly any model. As a result not only your confidence is boosted but also your model's. Furthermore, it will make her believe that you're on top of things. Trust you because you're direct. Confident. Secure.
If you want to get juices flowing faster, then you'll have to adopt a system of poses that you can rely on. Think of it this way – if you start shooting your safe shots first, then you'll have more time to be creative later. The conclusion is a win-win situation.
That's why I'm excited to share Michael Zelbel's Boudoir Flow Posing with you. It's a 60-page ebook that spells out 30 boudoir photography posing ideas. It's created with detailed, clear directions, that will help you begin your shoot faster and more productively.
You'll get 30 boudoir photo shoot ideas & poses to memorize before you begin your photo shoot. Best of all, these poses are universal, undemanding. They're easy to pull off and great warm-ups for more complicated poses.
And because we want you to get more productive, we're offering Michael Zelbel's ebook for a limited-time deal of $9. It won't last long, so hurry! Buy this fantastic resource today!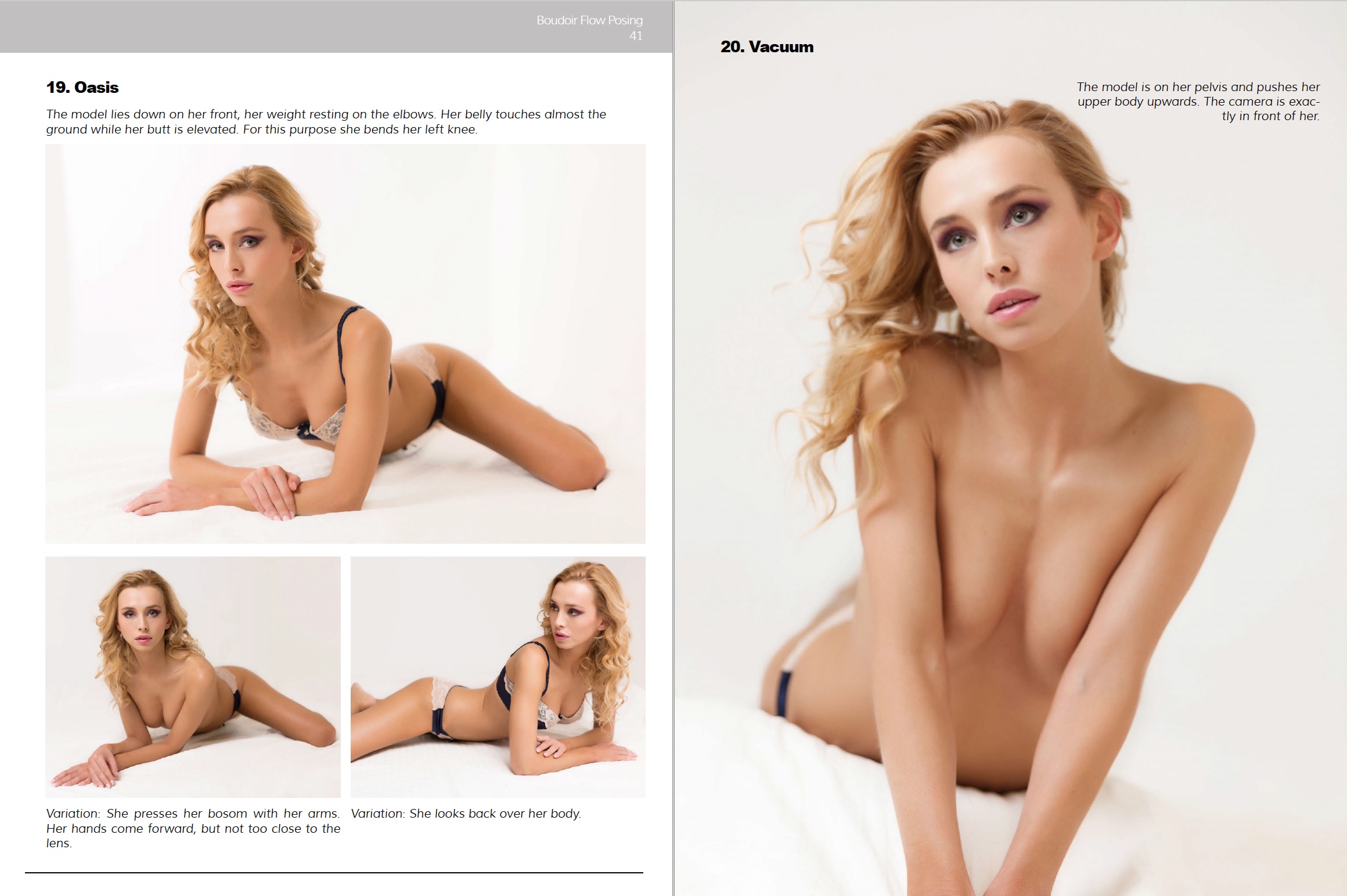 Watch Boudoir photo shoot ideas & flow poses trailer
Get 30 undemanding boudoir photography posing ideas to start things fast
How to take boudoir photos that features the best of your model? Before 30 minutes are up, you might have missed the opportunity to capture her best, most energetic self. If you want to increase your chances of getting the shot, then consider this guide. It teaches you the practical way to get more out of your boudoir photo shoot.
With this guide, you'll get go-to poses that you can pull out no matter how bad you feel. How shaky the start is. These boudoir photo shoot tips will quickly set things off on the right foot.
Every pose in this boudoir photo session ideas guide come with clear and direct instructions. So if you're looking to start shooting immediately, before the creative energy is wasted, then this sequence of boudoir photo shoot ideas will ensure you don't miss anything.
Get these 30 Boudoir Photo Shoot Tips NOW
Do you want to flood the room with confidence?
Get the juices flowing fast. Shoot an entire set in 30 minutes. Adopt these effortless poses.
We're both an Affiliate and a direct store
We hope you love the products we review, offer and recommend! Just so you know, if you decide to make a purchase, depending on the item, you may be directed to the appropriate affiliate site and your purchase will be directly from them, with a small referral proceeds collected by us as a share of sales or other compensation from the links on this page. Thank you!
Reviews (1)
1 review for
30 Boudoir Photo Shoot Ideas in 30 Minutes