CANON 85MM F/1.4 L IS USM EF MOUNT LENS [77]
CANON 85MM F/1.4 L IS USM EF MOUNT LENS [77]
Description
Distinguished by its fast design and IS capabilities, the EF 85mm f/1.4L IS USM from Canon is a short telephoto prime well-suited to portraiture applications. As an L-series lens, it is characterized by a sophisticated optical layout that includes one glass-molded aspherical element to greatly reduce spherical aberrations and distortion for improved sharpness and clarity. Individual elements also feature an Air Sphere coating (ASC) to suppress lens flare and ghosting for greater contrast and color fidelity in backlit situations.
Complementing the optical attributes, this lens also incorporates a four stop-effective optical image stabilization system that minimizes the appearance of camera shake for sharper handheld shooting. A ring-type Ultrasonic Motor (USM) also affords quick and accurate autofocus performance, along with full-time manual focus override for fine-tuned control. Additionally, as with all L-series lenses, this 85mm f/1.4 has a dust- and weather-resistant construction, as well as a fluorine coating on exposed elements, to benefit its use in harsh environmental conditions.
Portrait-length prime is designed for full-frame Canon EF-mount DSLRs, however can also be used with APS-C models where it will provide a 136mm equivalent focal length. Notably fast f/1.4 maximum aperture offers extensive control over depth of field for working with selective focus techniques. This bright design also benefits working in low-light conditions. One glass-molded aspherical element helps to reduce distortion and spherical aberrations for improved sharpness and clarity. An Air Sphere Coating (ASC) has been applied to lens elements to reduce backlit flaring and ghosting for maintained light transmission and high contrast in strong lighting conditions. A ring-type Ultrasonic Motor (USM), along with optimized focusing algorithms and a high-speed CPU, is employed to deliver fast, precise, and quiet autofocus performance as well as full-time manual focus override.
Optical image stabilization minimizes the effects of camera shake by compensating for up to four stops of shutter speed.
Rounded nine-blade diaphragm contributes to a pleasing out of focus quality that benefits the use of shallow depth of field and selective focus techniques. As a member of the esteemed L-series, this lens is sealed against dust and moisture for working in inclement environmental conditions.
Fluorine-coating on exposed elements affords protection to the optical system, resists smudging and fingerprints, and is easier to clean.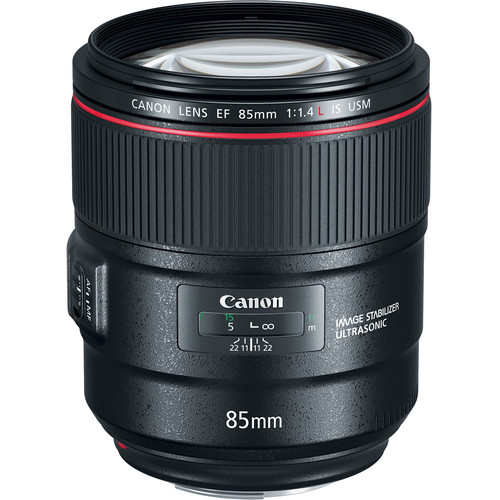 High-speed AF
To help capture every movement, the EF 85mm f/1.4L IS USM features a fast and near-silent AF system. It uses an inner focusing ring USM (ultrasonic motor) system that works with a high-speed CPU and optimized AF algorithms to help deliver precise, lightning-fast performance. For even more refinement, the EF 85mm f/1.4L IS USM offers full-time manual focus as well
Circular Aperture
Thanks to its 9-blade, circular aperture, the EF 85mm f/1.4L IS USM is capable of gorgeous, evocative out-of-focus areas and soft backgrounds. With an incredible level of control over background blur, the 9-blade circular aperture helps create intimacy and intensity in both photos and videos for impactful results.
33.5 in./85cm Minimum Focusing Distance
With a minimum focusing distance of 33.5 in./85cm, the EF 85mm f/1.4L IS USM enables operation close to the subject, perfect for intimate portraits, headshots and detail work.
Dust- and Water-resistant
The EF 85mm f/1.4L IS USM delivers a dust- and water-resistant construction with seals around the switch panel, the focus rings and the mount. The surface of the lens even features a smudge-resistant fluorine coating that repels water and oil and can easily be cleaned with a dry cloth.
EF 85mm f/1.4L IS USM
With a superb combination of optics, performance, advanced features and a durable design, the EF 85mm f/1.4L IS USM is an outstanding L-series medium-telephoto lens. As Canon's first 85mm L-series lens with IS capability, it has an advanced optical formula with a large-diameter aspherical lens, plus a bright f/1.4 maximum aperture to deliver gorgeous, sharp and detailed images suitable for virtually any application. Its versatile combination of built-in image stabilization and its sophisticated design make it perfect for handheld use even in harsh environments.
IS Capability
The EF 85mm f/1.4L IS USM marks a new level of agility in a medium-telephoto lens as Canon's first 85mm L-series lens to incorporate Image Stabilization. It delivers up to 41 stops (CIPA Standard) of stabilization, making handheld operation possible in a vastly increased number of scenarios from portraiture to snapshots and everywhere in between. 1 Based on CIPA (Camera & Imaging Products Association) standards. Testing performed using the EOS-1D X Mark II SLR camera. The number of steps may vary based on the camera model used.
Large Aperture
The EF 85mm f/1.4L IS USM features a large f/1.4 maximum aperture, which produces a shallow depth of field for beautiful background blur, captures at a fast shutter speed, a bright viewfinder image as well as easy operation in low-light situations. Combined with its built-in IS, the EF 85mm f/1.4L IS USM helps capture images in a variety of environments where other lenses may require the use of a flash or alternate lighting source.
Image Stabilization
For consistently sharp results, the EF 85mm f/1.4L IS USM features an Image Stabilizer system that provides significant shake reduction for up to 41 shutter speed steps. This helps provide reliable handheld performance and clear image detail in low-light situations or at lower ISOs. Image Stabilization can also help minimize the need for a tripod.
GMo Aspherical Lens
For high-contrast images that remain sharp from corner to corner of the composition, the EF 85mm f/1.4L IS USM features a molded glass (GMo) aspherical lens, and the Image Stabilizer lens is coated with Canon's Air Sphere Coating (ASC) technology for significantly reduced flare and ghosting from reflected light.
Key Features
Canon's first prime 85mm with IS (Image Stabilizer)
Up to 4 stops of image stabilisation
Big bright f/1.4 aperture
9 bladed circular aperture for beautiful bokeh
Fast AutoFocus: Ring-Type USM (UltraSonic Motor) & rear focusing
L Series: best of the best professional optics & construction
.95kg (2.09lbs) of material
21st century design, next level sharpness & contrast
GMo Aspherical element with Air Sphere Coating Technology
Dust & moisture resistant exterior
Focuses down to .85m (33.5in)

EF-Mount Lens/Full-Frame Format
Aperture Range: f/1.4 to f/22
One Aspherical Element
Air Sphere Coating
Available accessories include: ET-83E Lens Hood, LP1219 Lens Case, E77 II Front Cap, 77mm filters, 77mm 500D Close-Up Lens/Filter, EF12 II Extension tube, and EF 25 II Extension tube.
ADDITIONAL INFORMATION
Brand Name: Canon
Filter Size: 77mm
Focus Type: Autofocus (lens motor)
Lens Mount: Canon EF
Lens Type: Telephoto / Long
Max Focal Length: 85mm
Min Focal LengthL 85mm
We're both an Affiliate and a direct store
We hope you love the products we review, offer and recommend! Just so you know, if you decide to make a purchase, depending on the item, you may be directed to the appropriate affiliate site and your purchase will be directly from them, with a small referral proceeds collected by us as a share of sales or other compensation from the links on this page. Thank you!
Reviews (1)
1 review for
CANON 85MM F/1.4 L IS USM EF MOUNT LENS [77]