K&F Concept 62mm ND8 to ND128 Variable Neutral Density Filter Slim Fader ND Filter 3 Stop to 7 Stop ND8-ND128 for Camera Lens NO X Spot Nanotec Ultra-Slim Weather-Sealed
K&F Concept 62mm ND8 to ND128 Variable Neutral Density Filter Slim Fader ND Filter 3 Stop to 7 Stop ND8-ND128 for Camera Lens NO X Spot Nanotec Ultra-Slim Weather-Sealed
Description
AmazonBasics UV Protection Lens Filter
Enhance the quality of your outdoor photos with help from the AmazonBasics UV protection filter. Considered the most popular protection filter, the UV protection filter helps reduce ultraviolet light for better-looking results, plus offers a welcome layer of protection for your camera lens. Whether novice or professional, capturing the great outdoors on film can be immensely rewarding. The AmazonBasics UV protection filter helps take it to the next level of awesome.
UV Light Reduction
UV light can negatively affect images, creating a bluish cast on color film or a low-contrast haze on either color or black and white. These negative effects of UV light are particularly noticeable with outdoor photographs, especially when taken at high altitudes or over long distances. The AmazonBasics UV protection filter helps absorb ultraviolet light, which in turn helps create clearer, more accurately vibrant photographs.
Lens Protection
Protect your camera lens from dirt, dust, moisture, scratches, fingerprints, accidental knocks, and other damage with the AmazonBasics UV protection filter. Designed for general use, the filter offers convenient everyday protection and can remain on the camera at all times. For digital cameras with auto correction and built-in filters that already prevent color cast, the UV protection filter works as a useful, everyday, all-purpose lens protector.
UV protection filter for general, everyday use
Reduces ultraviolet light; helps eliminate bluish cast in images
Protects lens from dust, dirt, and scratches
Most popular protection filter; ideal for outdoor photography
Measures 58mm in diameter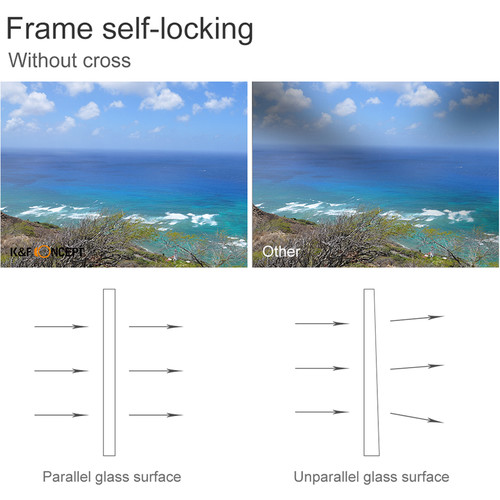 In the Box
– AmazonBasics UV Protection Filter – 58mm
We're both an Affiliate and a direct store
We hope you love the products we review, offer and recommend! Just so you know, if you decide to make a purchase, depending on the item, you may be directed to the appropriate affiliate site and your purchase will be directly from them, with a small referral proceeds collected by us as a share of sales or other compensation from the links on this page. Thank you!
Reviews (1)
1 review for
K&F Concept 62mm ND8 to ND128 Variable Neutral Density Filter Slim Fader ND Filter 3 Stop to 7 Stop ND8-ND128 for Camera Lens NO X Spot Nanotec Ultra-Slim Weather-Sealed