SONY HVL-F32M FLASH [GN105] {BOUNCE, SWIVEL, ZOOM} (FOR DIGITAL CAMERAS WITH MULTI-INTERFACE SHOE)
SONY HVL-F32M FLASH [GN105] {BOUNCE, SWIVEL, ZOOM} (FOR DIGITAL CAMERAS WITH MULTI-INTERFACE SHOE)
Description
Compact, yet packed of features, the HVL-F32M External Flash from Sony is well-suited for use on mirrorless cameras as well as smaller DSLRs, or for those who are simply looking for a lightweight on-camera lighting solution. The flash balances power and size with a respectable guide number of 105′ at ISO 100 and 105mm as well as an auto zoom range of 24-105mm on full-frame cameras, expandable to 15mm with the built-in wide-angle panel. Also, unit can tilt upward 90° as well as rotate 180° right and 90° left for bouncing light in horizontal and vertical shooting positions. This unit is compatible with Sony's Multi Interface Shoe and is not natively compatible with the older Sony/Minolta Auto-Lock Accessory Shoe. Though, with the use of ADP-AMA Shoe Adapter, Sony cameras with the Auto-Lock Accessory Shoe can be adapted to use Multi Interface Shoe external flashes with full compatibility.
Another benefit of the flash is the ability to use it as either a wireless TTL controller or as a remote flash. This allows users to set up multiple flash units around their subject for more complex lighting setups. The HVL-F32M also has a comprehensive LCD panel on the back for viewing and changing settings as well as a charge progress indicator. Dust and water resistance is also a major feature of this unit along with high-speed, slow, first and second curtain synchronization settings. Additionally, it has a recycle time of 0.1 to 5 seconds and runs on 2 AA batteries. It comes with a terminal protector cap, mini-stand, and carrying case.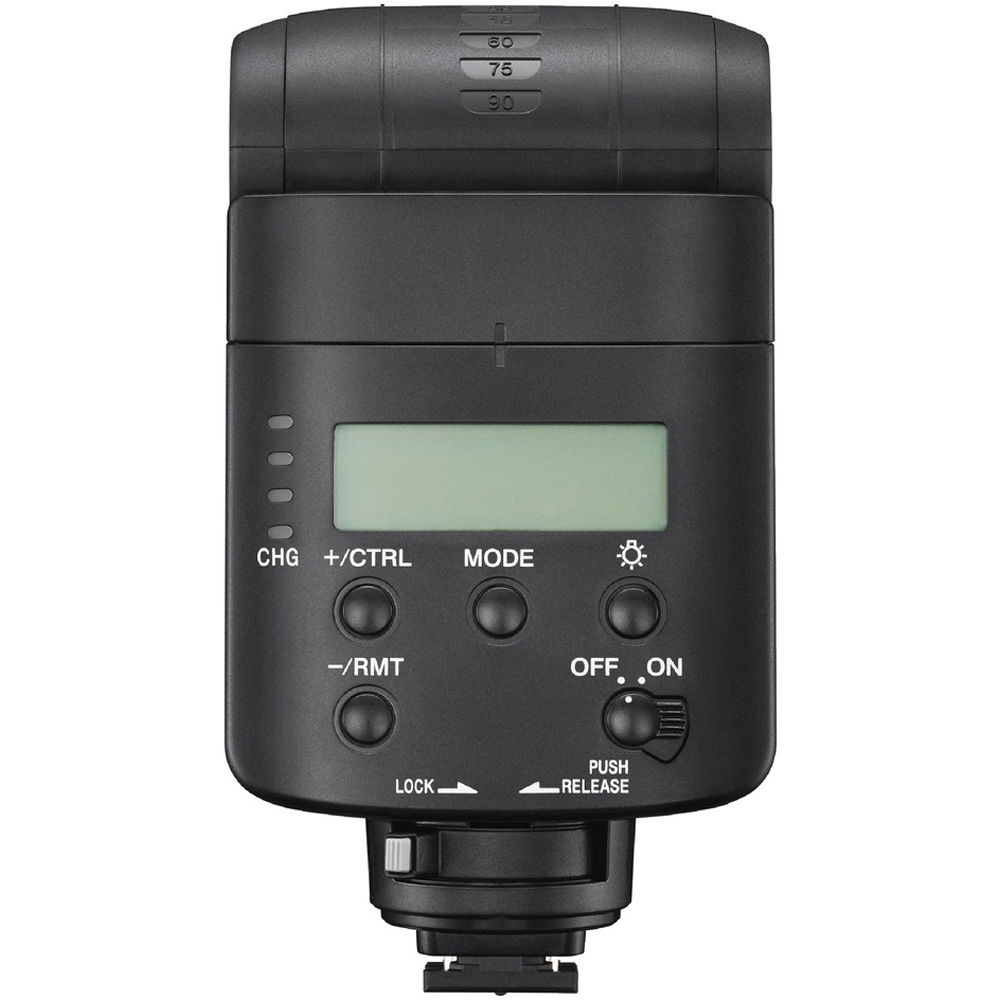 Advance Distance Integration (ADI) flash metering works with cameras and lenses with distance encoders to more accurately balance flash output with ambient light and subject reflectivity by taking camera-to-subject distance into account
Continuous flash performance of 40 flashes at 5 Hz with normal flash at 1/32 power and the 105mm setting
Built-in bounce card for creating catchlights
Auto zoom function will recognize and adjust for sensor size
Color temperature of approximately 5500K
Wireless channel is fixed to channel 1
Power saving mode
Charge progress indicator switches from red, orange, yellow, and green to show current status
Manual flash control from 1/1 to 1/128 power in 1/3 EV steps
Battery life of about 120-150 flashes
Locking hot shoe
Compatible with Sony ADI / P-TTL
Guide Number: 105′ at ISO 100 and 105mm
Zoom Range: 24-105mm (15mm with Panel)
Tilts from -8 to 90°
Rotates 180° Right and 90° Left
Wireless TTL Controller/Remote Flash
LCD Panel & Dust/Water Resistant
Recycle Time: 0.1-5 Seconds
Slow, High-Speed, 1st & 2nd Curtain Sync
Runs on 2 AA Batteries
ADDITIONAL INFORMATION
Brand Name Sony
Flash System Minolta/Sony TTL (Pre-Flash)
We're both an Affiliate and a direct store
We hope you love the products we review, offer and recommend! Just so you know, if you decide to make a purchase, depending on the item, you may be directed to the appropriate affiliate site and your purchase will be directly from them, with a small referral proceeds collected by us as a share of sales or other compensation from the links on this page. Thank you!
Reviews (1)
1 review for
SONY HVL-F32M FLASH [GN105] {BOUNCE, SWIVEL, ZOOM} (FOR DIGITAL CAMERAS WITH MULTI-INTERFACE SHOE)